ASTRO 420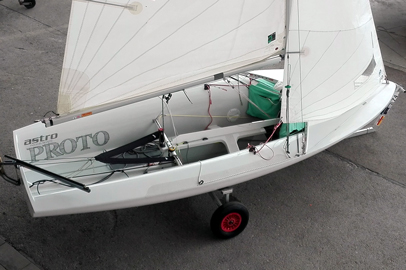 ASTRO 420 Mk1(R) "Proto".
We are pleased to present our latest creation for the Int. 420 Class, the ASTRO 420 Mk1(R). It has taken almost two years of development, but it has been worth it.

420 Class is an old friend for the ASTRO Works Team. It's been a long time since we started building 420 hulls. We have been World Champions in 2003 (MEDINA/BARREIROS, Hayling Island, UK) and Youth European Champions in 2005 (RAHIER/RAHIER, Garda Lake, Italy). Coming back to this Class has something of good feeling, good memories for us...

This boat keeps being one of the best development platforms for the youth light sailors after Optimist Class. It will prepare the technical skills base of the future champions.

Technically demanding, not only on the linked manoeuvres, that will require high coordination of Helm/Crew, but also on the fine boat tuning that will involve a whole new and unknown world so far for the crews.

ASTRO focus this new/old challenge with a brand new design with which we want to check, once again, our "Know-How" on this class and in high level competition of Dinghy Sailing.