ASTRO Optimist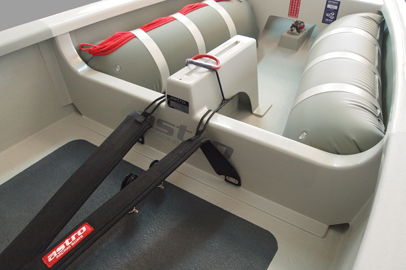 ASTRO Mk2(R) in Ash GREY midship frame.
The ASTRO Optimist, are the result of many years of experience* in sail competition, and in production* of technical composites. We apply both to build high-level hulls for the Optimist Class.
Mk2(R):
Introduced in October 2015, the ASTRO Mk2(R) Edition is the logical consequence after 5 years building and improving our successful ASTRO Mk1(R). We improved some raw materials and optimized few of our building procedure mainly to gain on better traceability and repeatability. This hull is our last development for the class and has already been highly successful since the beginning.

One of first Mk2 prototypes, still under Mk1 designation, got two "bullets" at 2015 Poland Worlds on Nacho DAVILA hands (ESP). On 2016 the Mk2(R) got Silver Medal at Vilamoura Worlds, after leading the Worlds overall for two days on Mathias BERTHET (NOR) hands...
Calle LAGERBERG (SWE) with ASTRO Mk2(R).
Features:
-Hull and Gunwale in "Snow WHITE", Mid-ship Frame See palette*, Inner hull face "Ash Grey" and Anti-skid area "Graphite",
-Low friction DELRIN deck collar with tapered, and fore-aft oval inner diameter, for maximum mast rake,
-316SS lightened mast step with rake spring looking system,
-Daggerboard retaining system,
-43 Lts. IODA'95 ligther buoyancy bags,
-Block and Winch RONSTAN,
-Kiwi style padded hiking straps, with loops for lifting shock-cord,
-DYNEEMA main-sheet,
-316SS rudder fittings,
-Braided tow line with 316SS safety hook,
-2 x 3,5 Lts. bailer secured with shock-cord,
-Paddle secured with shock-cord.

Midship frame Palette
You can choose the colour of the Midship Frame of your hull among the following range. Some of the Mk1(R) colours are still available..! For these and other colours, please check availability here.

Mk2(R) colours:
| | | | | |
| --- | --- | --- | --- | --- |
| Acid LIMA | Lavander PURPLE | Crazy FUXIA | Turquoise GREEN | Astro YELLOW |
Mk1(R) colours:
| | | | | |
| --- | --- | --- | --- | --- |
| Baby BLUE | Pale SALMON | Ash GREY | Iron GREY | Pastel GREEN |
Production
The Optimist hulls, as specified on IODA* class rules*, are built of GRP laminates. We believe that our hulls are better, because of the quality of the materials we use and of our care in the craftsmanship process.


Hull laminate

We use ISOPHTHALIC Polyester resin with high HDT*. This means higher mechanical and elasticity performance, compared with hulls built with ORTOPHTHALIC resin, cheaper but of lower performance.

The quality of the fibreglass we use in our hulls is M1 (powder binder). This is the best quality, much higher than the M5 (emulsion binder), and the only internationally approved against osmosis in shipbuilding.

The bottom of the IODA Optimist is a "sandwich" structure. At ASTRO we build it with a vacuum system (with a similar system to the one used in F1 to build frames). This gives a much more strength, compact and lighter laminate than hand lay-up.

Once finished, our hulls are post-cured at a controlled temperature, which gives them their extra quality and dimensional stability. Therefore they last longer. This is the process we have used for many years. In fact, the team that builds your Optimist, is the same team that built the winner hulls of the 2003 Worlds (MEDINA/BARREIROS, Hayling Island, UK) and 2005 Europeans (RAHIER/RAHIER, Garda Lake, Italy) of Int. 420 Class.

Finally we come to accurately assembly and alignment of the key points: -Deck Collar-Maststep-Daggerboard-Rudder blade-, so all elements work in a single plane. AB RE only builds the ASTRO hulls in BARCELONA. Therefore our quality is not in the hands of others and not dependant on enforcing a process that can not be controlled remotely.
Why ASTRO..?
Mathias BERTHET, Silver Medal at 2016 WC with ASTRO.

Well... It is a logical question and we think the answer may be fairly different for each one. In fact, if you got reading down here, we assume you are somehow curious/interested/attracted by ASTRO...

Some may choose ASTRO for our design and finest craftsmanship. We build just one ASTRO hull per week in a very slow and detailed process. Doing like this, we ensure that every hull is, at least, one complete week into mold. Premium Quality..!

Some just like our good-looking. We try to build our ASTRO hulls as pretty as we can. As this is fully personal, we introduced different midship-frame colours as an option, so you can find your own.

Some other may decide for ASTRO by our re-known "ease of drive". We know that a too rigid hull is not easy to drive. We think that you need to keep high speed as long as you can, keeping your boat right under control but also, and more crucial, you need to keep as much time as you can, looking outside the boat to find the "shortest path" to finish line. If you have to drive stressed looking how to control your boat, your attention on race field becomes a secondary priority, what you can not permit at all... finding the shortest path to finish line is the best speed improvement you can achieve..!

Hope we give to you enough reasons to choose ASTRO...